Mark-up a PDF
Place text boxes, text ovals, lines and arrows on a PDF.
Text highlighting, strike-out and underlining.
Insert voice annotations.
Insert text and image stamps.
Upload to sign here
An easy way for pdfMachine users to get others to sign their PDFs without the signers installing any software. pdfMachine users can also use it to easily sign PDF documents they receive. Read more
Digitally sign any PDF.
Easily insert digital signatures into your PDF documents from the pdfMachine menu.
Have your selected signature automatically applied to PDFs you produce.
Use certificates managed with Windows.
Create your own self signed certificates.
Time Stamped PDFs - have your signed PDFs automatically time stamped by a Time Stamp Authority. More details>>
Create "Certified" PDFs. More details>>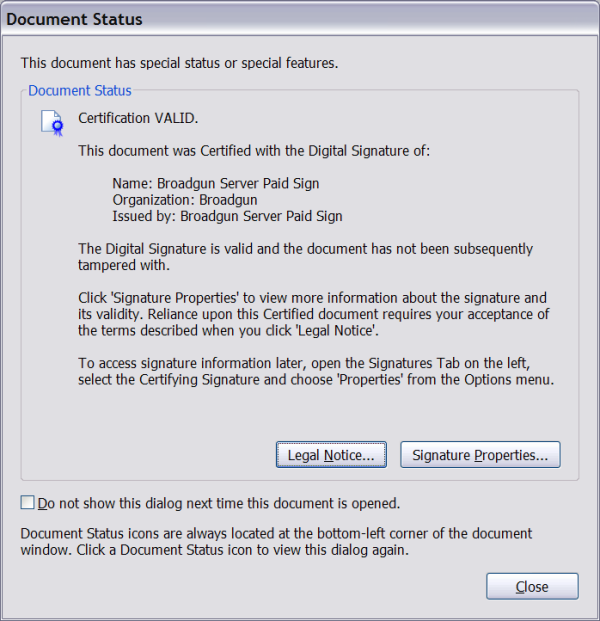 Drag the signature to any position on the page.
Set the signature appearance including images, reason, location, dates and signature details.
Or leave the signature invisible.
Use OCR to create searchable text.
Using optical character recognition (OCR) scanned PDFs can be converted into searchable text that is stored invisibly with the PDF when saved. This allows readers of the PDF to search the PDF for the text, and also to copy and paste the converted text. More details
Embed / attach any type of file to a PDF.
Files can be embedded (attached) to the PDF so that they stay with the PDF. Any attachments you add to a PDF will move with it if you transfer the document to a new location or person.
Auto hyperlink generation
pdfMachine will automatically scan the text in a PDF creating hyperlinks when it finds particular words or phrases you have defined. This can be handy for common terms such as company names or products.

e.g. You can setup pdfMachine so that whenever the word "pdfMachine" is encounted in a PDF, a hyperlink to www.pdfmachine.com is created.
Redaction
Use pdfMachine to redact (permanently remove) blocks of text and images from the PDF, replacing them with black blocks. The information is removed, not just hidden. Redaction provides a means to protect sensitive or confidential information.
Stamper
The stamper is a nice way to ask a user to fill out a form then have the results of that form "stamped" onto the PDF. Details here.
Split PDF into many PDFs
The Split PDF functionality allows you to split or 'explode' a PDF into smaller PDFs. You can split per page or per set number of pages. Details here.
Compare pdfMachine office, pro and ultimate
Platforms:
Windows 7 / 8 / 10 / 2008 / 2012 / 2016
includes x64 Platforms

What is a Time Stamp Authority (TSA) ?
A time-stamping service supports assertions of proof that a document
existed before a particular time. This is all done in a cryptographically secure manner.

Put simply, if you can trust the time of a TSA, then you can trust the document signing time in the PDF thus proving the existence of a document at a certain time.
For more details on how this works with pdfMachine, click here.

What is a Certified PDF?
A Certified PDF is a digitally signed PDF that is makes its signed status more obvious. When a certified PDF is viewed in Adobe Reader, a dialog box will automatically appear showing the document status, such as the following: