Create PDF Free :
pdf

Machine demo

pdfMachine demo is our free trial version of pdfMachine. It requires no registration.

Installation of pdfMachine version 15.32 and later default to the pdfMachine white instead of pdfMachine demo.
pdfMachine demo allows unrestricted use of all features.
A small pdfMachine advertisement is placed at the bottom of each page of the generated PDF.
To try it, download it here, then run the installer.
Compare pdfMachine office, pro and ultimate
Platforms:
Windows 7 / 8 / 10 / 2008 / 2012 / 2016
includes x64 Platforms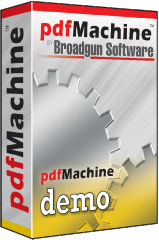 To use pdfMachine without the advertisement being generated, you need to
purchase a license
and register the software or use our free
product.